Electrocompaniet
ECG 1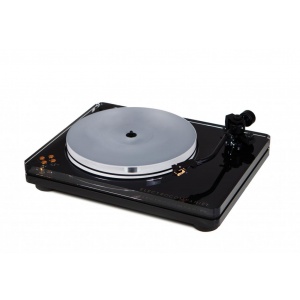 imagine exemplificativa
0%

Evolutie pret
oferte de la

16,900.00 LEI
2 magazine
Descriere
- Electrocompaniet ECG 1
ECG 1 REGULATED BELT DRIVE TURNTABLE
CHASSIS: The Electrocompaniet ECG-1 is a sandwich construction made out of three layers: acrylic and aluminum, benefiting from the internal dampening in the acrylic and the rigidity of the aluminum. This sandwich construction with its different materials increases the internal vibration dampening further, so the chassis will have no resonance problems.

PLATTER: The ECG 1 is fitted with a platter made out of acrylic that is very similar to the vinyl material used in the record. The record is meant to be placed directly onto the platter, without the use of a platter mat. This ensures a "strong" coupling between the two parts, basically making the LP "a part of the platter". The acrylic material in the platter has good internal dampening, so it won′t "ring" like a metal platter.

MOTOR:The ECG-1 turntable is fitted with a 24 Volt AC synchronous motor that is perfectly controlled by a 2 phase low harmonic analogue sine wave controller. An AC motor is very precise and will follow the frequency of the motor controller, without the complications and over engineering necessary with a DC motor (and it′s steering).
TONEARM: The Electrocompaniet ECG-1 turntable is fitted with the Jelco SA-750EB tone arm. It will handle phono cartridges weighing between 4 and 12
Specificatii
Turntable
Operation: Manual
Drive system: Exterior (round) rubber belt drive
Motor: 24 V AC synchronous motor
Speeds: 33 1/3 − 45 − 78 RPM
Speed selection: Fully regulated electronically
Platter: 12" / 2.8 kg (6.1 lbs) acrylic

Tonearm
Operation: Manual
Profile: S − shaped
Headshell: (SME-mount)
Efficient length: 258 mm
Overhang: 15.17 mm
Offset angle: 21˚
Tracking error - angle: 1.75˚ - 1.25˚
Cartridge weight: 4 - 12 g
Cartridge height: 38 - 60 mm
Moving mass: 21 g ( cartridge screws (0,5 g))

Dimensions
Width 465 mm / 18.3 inches
Depth 360 mm / 14.1 inches
Height 153mm / 6 inches
Weight (Turntable with tonearm) 13 kg. / 28.6 lbs
Motor 1,3 kg / 2.2 lbs
Price.ro nu este magazin online si nu vinde in mod direct. Puteti achizitiona produsul
Electrocompaniet ECG 1
de la oricare magazin afisat in lista de preturi. Mai multe specificatii si imagine detaliata pentru Electrocompaniet ECG 1 puteti gasi in pagina
Detalii produs
. Preturile, specificatiile si imaginea pentru
Electrocompaniet ECG 1
sunt furnizate de catre magazinele din lista. Preturile contin TVA.