Dayton Radiator Pasiv ND65-PR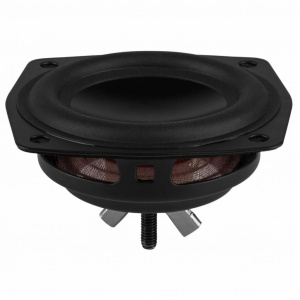 imagine exemplificativa
0%

Evolutie pret
Lista de preturi
In stoc
Cost transport 20 lei
Descriere
- Dayton Radiator Pasiv ND65-PR
The Dayton Audio ND65-PR 2-1/2 passive radiator makes it easy to tune small enclosures lower without increasing overall enclosure size. With a one-piece aluminum cone, rubber surround, high excursion capability, and easily adjustable mass, this passive radiator is perfect for building extremely compact speaker systems capable of incredible low frequency output. HighlightsRigid black anodized aluminum alloy coneHigh excursion capability: 10 mm peak to peakSame family look as ND Series woofersMass adjustable for a vast range of tuning frequencies Product details Dayton Audio ND65-PR 2-1/2 Aluminum Cone Passive Radiator Tune small enclosures with Dayton Audio's ND65-PR 2-1/2 passive radiator in speaker designs where a conventional port is not a viable option. This compact passive radiator includes all of the features you expect with larger radiators including high excursion capability, aluminum cone, rubber surround, and adjustable mass. Visually identical to Dayton Audio's popular ND series drivers, the ND65-PR can be used with any small speaker. The threaded rod and included wing nut on the back of the cone makes it easy to add mass to tune the radiator as needed for your projects. Whether you are building a multi-driver array, sound bar, or portable Bluetooth speaker, the Dayton Audio ND65-PR introduces a new range of possibilities. The ND65-PR 2-1/2 passive radiator includes:(1) Passive radiator(1) 4.3 gram disk weight(1) Wing nut Tip: As a general rule, the passive radiator(s) should have at least double the displacement of air (Vd) as the active woofer(s)/subwoofer(s) in the system.
PRODUCT SPECIFICATIONS

Nominal Diameter

2-1/2



THIELE-SMALL PARAMETERS

Resonant Frequency (Fs)

73 Hz

Mechanical Q (Qms)

2.69

Compliance Equivalent Volume (Vas)

0.02 ft.³

Mechanical Compliance of Suspension (Cms)

1.45 mm/N

Diaphragm Mass Inc. Airload (Mms)

3.2g

Maximum Linear Excursion (Xmax)

5 mm

Surface Area of Cone (Sd)

15.6 cm²



MATERIALS OF CONSTRUCTION

Cone Material

Aluminum

Surround Material

Rubber

Basket / Frame Material

Steel



MOUNTING INFORMATION

Overall Outside Diameter

2.52

Baffle Cutout Diameter

2.05

Depth

1.89

# Mounting Holes

4
Tip Echipament
Radiator Pasiv
Diametru
2.5 inch / 6.35 cm
Price.ro nu este magazin online si nu vinde in mod direct. Puteti achizitiona produsul
Dayton Radiator Pasiv ND65-PR
de la oricare magazin afisat in lista de preturi. Mai multe specificatii si imagine detaliata pentru Dayton Radiator Pasiv ND65-PR puteti gasi in pagina
Detalii produs
. Preturile, specificatiile si imaginea pentru
Dayton Radiator Pasiv ND65-PR
sunt furnizate de catre magazinele din lista. Preturile contin TVA.