Clarion CZ-302E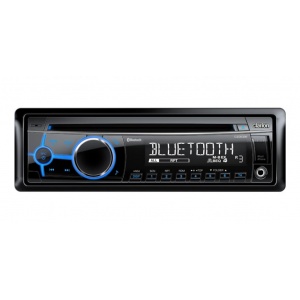 imagine exemplificativa
0%

Evolutie pret
Descriere
- Clarion CZ-302E
FEATURESCD/USB/MP3/WMA playbackBuilt-in Parrot Bluetooth interface (HFP, HSP, A2DP, AVRCP, PBAP)Built-in Microphone and external microphone ready with optional RCB1993.5 mm audio auxiliary input (front)Front USB Port with iPod direct connect capabilities (optional CCA748 iPod interface cable)445 W MOS-FET power amplifierSubwoofer level controlBuilt-in Low pass / High pass filtersBeat EQ for sound adjustment2V / 4-channel audio pre-outOEM steering wheel remote ready
Parrot Bluetooth for hands-free communication, access to phonebook and audio streaming
Built-in Parrot Bluetooth provides hands-free telephone
communication, with comprehensive compatibility with a variety of mobile
phones.
With a built-in microphone and Phonebook access, you can safely talk
and drive at the same time. Play music stored on your mobile phone with
Bluetooth audio streaming.* Dependent on mobile phone.
* Please see our website for details of compatible Bluetooth mobile phones.
Seamless enjoyment with superior iPhone and iPod connectivity
Just connect using the USB cable supplied with your iPhone or
iPod, and youll get integrated control for easy access to your music.
You can also watch videos with an optional CCA748 cable and external
monitor. One of the benefits of integrated operation is the Simple
Control function, which allows operation using the iPhone/iPod controls
that youre used to using, in addition to controllability from the
source unit. The ABC Search function lets you list up the names of Songs
and Artists stored on your iPod that start with the alphabet letter you
choose. This is much more convenient than going through a long list of
everything, or having to tap-in a specific name. Whats more, your
iPhone or iPod battery is charged while connected to the source unit, so
its ready to go at full power the moment you reach your destination.* Please see our website for details of compatible iPod / iPhone models.
* iPod video can be viewed by connecting CZ302E to an external
universal monitor with RCA video input and by connecting a suitable iPod
/ iPhone via the optional CCA748 cable.
Video browsing control
Video browsing lets you conveniently enjoy video content stored on iPod / iPhone via a connected monitor.
Price.ro nu este magazin online si nu vinde in mod direct. Puteti achizitiona produsul
Clarion CZ-302E
de la oricare magazin afisat in lista de preturi. Mai multe specificatii si imagine detaliata pentru Clarion CZ-302E puteti gasi in pagina
Detalii produs
. Preturile, specificatiile si imaginea pentru
Clarion CZ-302E
sunt furnizate de catre magazinele din lista. Preturile contin TVA.