CHORD CPA2500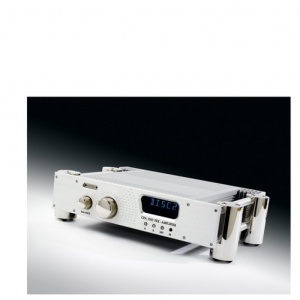 imagine exemplificativa
0%

Evolutie pret
Descriere
- CHORD CPA2500
Introducing the entry level CPA2500 Pre-amplifier. The Chord
CPA 2500 is of minimalist design but utilises a highly accurate,
high-performance balanced output amplifier section.
The CPA 2500 is a
full width design with matching style and character to the SPM 650 Power
amplifier. The open airy sound of the CPA 2500 is instantly recognisable to
anyone familiar with Chord Electronics power amplifiers. The CPA 2500 is
transparent and flexible in its ability to disappear within the music. Full
display and remote control features enable total mastery over the six
unbalanced inputs.
The unit features
two separate monitor inputs and outputs. Monitoring (Tape, DAT, CDR) is
possible from any source to either of the tape recorder outputs. The CPA 2500
has been configured with 2 input selector buses, each bus connected to one
monitor output. The CPA 2500 comes fully equipped with two pairs of balanced
and one pair of unbalanced outputs. The output stage has been specially
designed to perfectly match any Chord Electronics power amplifier. Six pairs of
RCA phono style unbalanced inputs are configured for two CD players, one VCR or
DVD player, one Radio or Tunertwo recording output monitors.
These controls can be manually or remotely operated. The
volume control is displayed digitally with figures from 00 to 98 with a
logarithmic law. The balance control also has an indication for the direction
of travel.
As with all Chord products each piece of metal work is
machined from solid aluminium giving a superb rigid construction that gives
unsurpassed vibration damping with stunning looks to match.
Price.ro nu este magazin online si nu vinde in mod direct. Puteti achizitiona produsul
CHORD CPA2500
de la oricare magazin afisat in lista de preturi. Mai multe specificatii si imagine detaliata pentru CHORD CPA2500 puteti gasi in pagina
Detalii produs
. Preturile, specificatiile si imaginea pentru
CHORD CPA2500
sunt furnizate de catre magazinele din lista. Preturile contin TVA.