Buffalo TERASTATION™ 5410RN 12TB TS5410RN1204-EU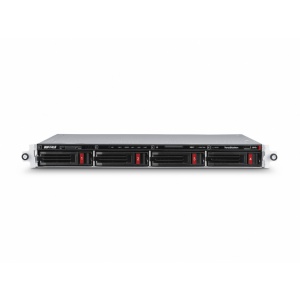 imagine exemplificativa
0%

Evolutie pret
Descriere
- Buffalo TERASTATION™ 5410RN 12TB TS5410RN1204-EU
TERASTATION™ 5410RN
HIGH PERFORMANCE, RELIABLE STORAGE
WITH BUIT-IN 10GIGABIT ETHERNET PORT
Buffalo's TeraStation 5410RN is a high performance 4-bay network storage solution ideal for businesses and demanding users requiring a reliable RAID-based network storage solution for business critical applications. Increased speed and reliability is achieved with a 10GbE connection and hard drives built for always-on NAS devices. With the powerful Annapurna Labs® Alpine AL314 1.7Ghz Quad-Core processor, TeraStation 5410RN provides exceptional performance during file transfers and everyday NAS functions.
Hardware System CPU Annapurna Labs Quad Core
CPU Speed 1.7GHz
RAM DDR3 ECC 4GB
Drive Interface SATA 6Gb/s
Installed OS Linux
Internal Hard Drives Number of Bays 4
Total Capacity 8TB, 12TB, 16TB, 24TB, 32TB
LAN Interface LAN Ports 1 x 10GbE, 2 x 1GbE
Max Transmission Rate 10/100/1000 Mbps / 10Gbps
USB InterfaceUSB 3.0 Ports 3
OtherClient OSWindows 10 / 8.1 / 7; Windows Server 2016 / 2012 R2 / 2012 / 2008 R2 / 2008; Mac OS X 10.9 or later
SupportStandard Warranty 3 years, 24 hour HDD exchange, Technical Support Hotline
Power Consumption (max.)100 W
Power Consumption (operation, typical)60 W
Power Consumption (idle state, typical)46 W
Power Consumption (standby)0.7 W
Software SystemSupported RAID LevelsJBOD, 0, 1, 5, 6, 10
Hot SwapYes
iSCSIiSCSI Target
Protocol Support Active Directory supportYes
BackupBackup Software NovaBACKUP Buffalo Edition
Failove rFailover solution with other Buffalo NAS devices
Realtime Backup Folder Replication, Failover
Replication Yes
Apple Time Machine®Yes
Cloud Support Yes
Remote Access WebAccess Yes
FTP/SFTPYes
Product Part Numbers Product Code
TS5410RN0804-EU - 8TB
- TS5410RN1204-EU - 12TB
- TS5410RN1604-EU - 16TB
-TS5410RN2404-EU - 24TB
-TS5410RN3204-EU - 32TB
Note 1TB = 1, 000, 000, 000, 000 Bytes. Actual data throughput will vary depending upon environment factor.
Price.ro nu este magazin online si nu vinde in mod direct. Puteti achizitiona produsul
Buffalo TERASTATION™ 5410RN 12TB TS5410RN1204-EU
de la oricare magazin afisat in lista de preturi. Mai multe specificatii si imagine detaliata pentru Buffalo TERASTATION™ 5410RN 12TB TS5410RN1204-EU puteti gasi in pagina
Detalii produs
. Preturile, specificatiile si imaginea pentru
Buffalo TERASTATION™ 5410RN 12TB TS5410RN1204-EU
sunt furnizate de catre magazinele din lista. Preturile contin TVA.