Auralic Convertor Digital/Analog (DAC) Vega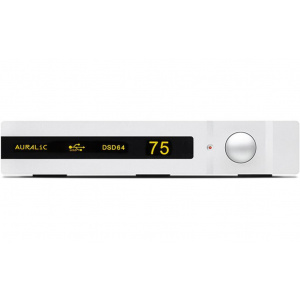 imagine exemplificativa
0%

Evolutie pret
Descriere
- Auralic Convertor Digital/Analog (DAC) Vega
We re-examined every step of the digital-to-analog process to make a digital audio processor that never compromises in its quest to faithfully re-create every nuance in the music you love, just as it was recorded. With powerful digital processing algorithms and a patented Class-A analog output module inspired by classic Hi-Fi designs, the award-winning VEGA sets the standard for High-End digital music.Attention to Every DetailFrom a super-accurate Femto Clock to extensive component isolation and temperature compensation, everything in the VEGA was designed with a relentless focus on quality. We know that when it comes to high-resolution digital music, every detail matters. The VEGA supports files up to DSD256, and has the resources to build an amazingly natural sound from your source. Add filters that let you tune the output profile to fit your tastes and the VEGA will challenge what you thought was possible from digital music.A Strong HeartAt the heart of the VEGA is our Sanctuary Audio Processor. Based on a multi-core ARM9 architecture, its got all the processing power it needs for the challenging task of turning leading-edge multi-channel high-resolution digital files into beautiful music. Sanctuary is behind the VEGAs ability to upsample every PCM signal to an impressive 1.5MHz at 32bits for incredible clarity. It also employs our ActiveUSB technology that provides asynchronous USB control and reduces EMI noise by circumventing dirty USB power in favor of its own supply.Megahertz UpsamplingOur Sanctuary Audio Processor uses a set of tailored algorithms to upsample every PCM signal to 1.5MHz at a depth of 32bits. Thats improved precision, but it also creates a new Nyquist frequency for PCM signal, which in turn makes it possible to improve bandwidth, slew rate, and more. Its a process that results in greater transparency, lower distortion, and less noise.ORFEO Class-A Output ModuleA Universally Good FitInspired by classic analog designs, ORFEO is capable of driving an array of loads to match the characteristics of a variety of amplifiers. Using small signal components with excellent linear qualities, thermally balanced and biased into Class A, ORFEO has the power to drive loads up to 600ohms while keeping noise lowopen loop distortion comes in at less that 0001%.Femto ClockA dedicated 9uV power supply keeps our 82 Femto Master Clock precise and quiet. Accurate to 82 quadrillionths of a second, the result is less jitter and better sound. Built around an aerospace-grade crystal oscillator, its temperature compensation dramatically reduces phase noise, and its ability to adjust frequencies in response to different sampling rates means it can lock on to any signal with the highest precision possible and avoid dropouts.Flexible FilterFexible Filter Mode gives you a nuanced level of control over your audio output. Its four filter modes were developed using a combination of objective data models and subjective testing, with each mode offering a unique array of filters to match the sonic quality of the source. Whether its modes to tweak in-band ripple, out-band attenuation, ultrasonic filtering and more, youve always got the power to dial in the performance you want.Purer-PowerThe Purer-Power linear power supply reduces DC current noise by as much as 90dB with its power purification module. Using a specially designed transformer and unique wiring that minimizes vibration, noise from Purer-Power is kept below 1uV across the audible spectrum, leaving you to discover the details in your music, down to the last bit.
Price.ro nu este magazin online si nu vinde in mod direct. Puteti achizitiona produsul
Auralic Convertor Digital/Analog (DAC) Vega
de la oricare magazin afisat in lista de preturi. Mai multe specificatii si imagine detaliata pentru Auralic Convertor Digital/Analog (DAC) Vega puteti gasi in pagina
Detalii produs
. Preturile, specificatiile si imaginea pentru
Auralic Convertor Digital/Analog (DAC) Vega
sunt furnizate de catre magazinele din lista. Preturile contin TVA.